I am Alpha and Omega, the Beginning and the End, the First and the Last
Revelation 22:13
We Wish you a blessed and peaceful passover
Israel is holy to the Lord, and the firstfruits of His harvest.
All that consume her will be guilty; evil will come upon them, says the Lord.
Jeremiah 2:3

Peace and Welcome to "Jesus Our Only Hope" - a Christian website. We are a few people in Sweden who want to share Jesus with others, and also want others to share him with us. The meaning with this website is to spread the Gospel of Jesus around the world, so that anyone willing can take part of it. You are able to send your own testimonies, articles, questions, opinions and other things related to the Bible and Jesus Christ the Son of God. We will look at anything written, and maybe also make something out of it, like tracts, for example. Of course, you can choose to be anonymous. We have also tracts, magazines and other things we have written ourselves. Tracts and Magazines are free to print. Our Biblical theology is old Pentecostal Church theology. We believe in the whole Bible - every word of God is true and must be interpreted from the new testament, in accordance with Jesu's and the Apostle's teaching.
The Bibles we basically use are the Swedish "1917 translation" and the old English "King James Bible" (some words are changed for better understanding). We often check Bible words from the original Hebrew- and Greek text.
Bible verses of the week



And after these things I heard a great voice of much people in Heaven, saying, Hallelujah; Salvation, and glory, and honour, and power, unto the Lord our God: For true and righteous are His judgments: for He has judged the great whore (prostitute), which did corrupt the earth with her fornication (adultery), and has avenged the blood of His servants at her hand. And again they said, Hallelujah. And her smoke rose up forever and ever. And the twenty-four elders and the four beasts fell down and worshipped God that sat on the throne, saying, Amen; Hallelujah. And a voice came out of the throne, saying, Praise our God, all you His servants, and you that fear Him, both small and great. And I heard as it were the voice of a great multitude, and as the voice of many waters, and as the voice of mighty thundering, saying, Hallelujah: for the Lord God Almighty reigns. Let us be glad and rejoice, and give honor to Him: for the marriage of the Lamb is come and His wife has made herself ready. And to her was granted that she should be clothed in fine linen, clean and white: for the fine linen is the righteousness of saints.
Revelation 19:1-8


The wedding of the Lamb is something to look forward to. Hallelujah!



Behold, the days come, says the Lord, that I will make a new covenant with the house of Israel, and with the house of Judah: Not according to the covenant that I made with their fathers in the day that I took them by the hand to bring them out of the land of Egypt; which My covenant they brake, although I was a husband unto them, says the Lord: But this shall be the covenant that I will make with the house of Israel; After those days, says the Lord, I will put My law in their inward parts, and write it in their hearts; and I will be their God, and they shall be My people. And they shall teach no more every man his neighbour, and every man his brother, saying, Know the Lord: for they shall all know Me, from the least of them unto the greatest of them, says the Lord; for I will forgive their iniquity, and I will remember their sin no more.
Jeremiah 31:31-34


Praise the Lord!



The sun shall be turned into darkness, and the moon into blood, before that great and notable day of the Lord come: And it shall come to pass, that whosoever shall call on the name of the Lord shall be saved.
Acts 2:20-21

Because you have kept the word of My patience, I also will keep you from the hour of temptation, which shall come upon all the world, to try them that dwell upon the earth. Behold, I come quickly: hold that fast which you have, that no man take your crown. Him that overcomes will I make a pillar in the temple of My God, and he shall go no more out: and I will write upon him the name of My God, and the name of the city of My God, which is New Jerusalem, which comes down out of Heaven from My God: and I will write upon him My new name. He that has an ear, let him hear what the Spirit says unto the churches.
Revelation 3:10-13


If we do our best to keep the commandments of God and have faith in Jesus Christ as the only begotten Son and the only way to God, Jesus will help us.



The Pharisees also came to Him, tempting Him, and saying to Him, Is it lawful for a man to put away his wife for every cause? And He answered and said to them, Have you not read, that He which made them at the beginning made them male and female, And said, For this cause shall a man leave father and mother, and shall cleave to his wife: and they two shall be one flesh? Therefore they are no more two, but one flesh. What therefore God has joined together, let not man put apart. They say to Him, Why did Moses then command to give a writing of divorcement, and to put her away. He said to them, Moses, because of the hardness of your hearts permitted you to put away your wives: but from the beginning it was not so. And I say to you, whosoever shall put away his wife, except it be for sexual immorality, and shall marry another, committees adultery: and whosoever marries her who is put away does commit adultery. His disciples say to Him, If the case of the man be so with his wife, it is not good to marry. But He said to them, All men cannot receive this saying, save they to whom it is given. For there are some eunuchs, which were so born from their mother's womb: and there are some eunuchs, which were made eunuchs of men: and there be eunuchs, which have made themselves eunuchs for the Kingdom of Heaven's sake. He that is able to receive it let him receive it.
Matthew 19:3-12


We shall indeed live close to our wife and have a good relation with her.



And I will strengthen the house of Judah, and I will save the house of Joseph, and I will bring them again to place them; for I have mercy upon them: and they shall be as though I had not cast them off: for I am the Lord their God, and will hear them.
Zechariah 10:6


God has mercy upon His peculiar people.



...

for the law shall go forth of Zion...


And many nations shall come, and say, "Come, and let us go up to the mountain of the Lord, and to the house of the God of Jacob; and He will teach us of His ways, and we will walk in His paths: for the law shall go forth of Zion, and the word of the Lord from Jerusalem."
Micah 4:2


Jesus Christ is the King of kings and Lord of lords.



And there shall be no more a pricking brier to the house of Israel, not any grieving thorn of all that are around them that despised them; and they shall know that I am the Lord God. This says the Lord God; When I shall have gathered the house of Israel from the people among whom they are scattered, and shall be sanctified in them in the sight of the heathen, then shall they dwell in their land that I have given to My servant Jacob. And they shall dwell safely therein, and shall build houses, and plant vineyards; yes, they shall dwell with confidence, when I have executed judgments upon all those that despise them around them; and they shall know that I am the Lord their God.
Esekiel 28:24-26


Israel shall have the whole land (given by God); the borders from 1967 and even more if we read the Bible carefully. They shall have peace there before all people in the whole world. The land of Israel and the 12 sons of Jacob are all witnesses of God's existence. Almost everyone in the whole world knows about Israel. Pray for the peace of Israel.
God - a Father of the fatherless
A Father of the fatherless, and a Judge of the widows, is God in His holy habitation.
Psalm 68:5

When my father and my mother forsake me, then the Lord will take me up.
Psalm 27:10

I heard about a fatherless guy that was so lonely and afraid that a criminal gang became his "family", but he had to obey them. He became a criminal and was put in prison. During his time in prison he met Jesus and get saved. Now he is calm and strong in faith, and don't have to be afraid anymore. God is his Father, Jesus is his Lord and the only way to God;
Jesus said to him, "I am the way, the truth, and the life: no man comes to the Father, but by Me."
John 14:6

Jesus said to her, "I am the resurrection, and the life: he that believes in Me, though he were dead, yet shall he live: And whosoever lives and believes in Me shall never die.
Do you believe in this?"
She said to Him, "Yes, Lord: I believe that You are the Christ, the Son of God, which should come into the world."
John 11:25-27

Jesus Loves You!
Recommended links:

http://www.worldchallenge.org/

http://www.ljusioster.se/
Yeshua-Jesus is coming soon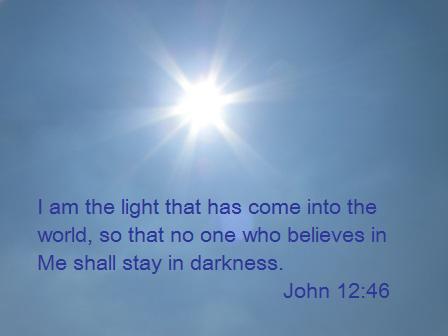 Heaven and earth shall pass away, but My words shall never pass away. No one knows about that day or hour, not even the angels in Heaven, nor the Son, but only the Father. As it was in the days of Noah, so it will be at the coming of the Son of Man. For as in the days that were before the flood they were eating and drinking, marrying and giving in marriage, until the day Noah entered the Ark; and they new nothing about what would happen until the flood came and took them all away. That is how it will be at the coming of the Son of Man. Then shall two men be in the field; one will be taken and the other left. Two women will be grinding with a hand mill; one will be taken and the other left. Therefore keep watch, because you don't know on what day your Lord will come.
Matthew 24:35-42
Behold, I come quickly: hold fast to what you have, so that no one will take your crown. Revelation 3:11
Israel - The Holy Land ♥ Jerusalem - The Holy City

Pray for the peace of Jerusalem; They shall prosper that love you. Psalm 122:6

Israel is Holy to the Lord, and the firstfruits of His harvest. All that consume her will be guilty; evil will come upon them, says the Lord. Jeremiah 2:3