I am Alpha and Omega, the Beginning and the End, the First and the Last
Revelation 22:13
Israel is holy to the Lord, and the firstfruits of His harvest.
All that consume her will be guilty; evil will come upon them, says the Lord.
Jeremiah 2:3

Peace and Welcome to "Jesus Our Only Hope" - a Christian website. We are a few people in Sweden who want to share Jesus with others, and also want others to share him with us. The meaning with this website is to spread the Gospel of Jesus around the world, so that anyone willing can take part of it. You are able to send your own testimonies, articles, questions, opinions and other things related to the Bible and Jesus Christ the Son of God. We will look at anything written, and maybe also make something out of it, like tracts, for example. Of course, you can choose to be anonymous. We have also tracts, magazines and other things we have written ourselves. Tracts and Magazines are free to print. Our Biblical theology is old Pentecostal Church theology. We believe in the whole Bible - every word of God is true and must be interpreted from the new testament, in accordance with Jesu's and the Apostle's teaching.
The Bibles we basically use are the Swedish "1917 translation" and the old English "King James Bible" (some words are changed for better understanding). We often check Bible words from the original Hebrew- and Greek text.
Bible verses of the week


Behold, the days come, says the Lord God, that I will send a famine in the land, not a famine of bread, nor a thirst for water, but of hearing the words of the Lord: And they shall wander from sea to sea, and from the north even to the east, they shall run to and fro to seek the word of the Lord, and shall not find it.
Amos 8:11-12


I think that the true Gospel is not preached properly, it is nowadays almost forbidden to preach about sins in many churches. Because of that, people get a "false" Jesus instead of a true real Jesus where the full Gospel being preached. Jesus warns us for many sins and also for the Hell. But of course, He is full of mercy if we confess and repent from our sins. So it is very important that we get permission to confess sins for each other. Otherwise will the true Gospel disappear from the earth.



And the word of the Lord came unto me, saying, Son of man, say unto her, You are the land that is not cleansed, not rained upon in the day of anger. There is a conspiracy of her prophets in the midst thereof, like a roaring lion ravening the prey; they have consume souls; they have taken the treasure and precious things; they have made her many widows in the midst thereof. Her priests have violated My law, and have profaned Mine holy things: they have put no difference between the holy and profane, neither have they showed difference between the unclean and the clean, and have hid their eyes from My Sabbaths, and I am profaned among them. Her princes in the midst thereof are like wolves ravening the prey, to shed blood, and to destroy souls, to get dishonest gain. And her prophets have whitewash them with false visions, and prophecy lies unto them, saying, This says the Lord God, when the Lord has not spoken. The people of the land have used oppression, and exercised robbery, and have troubled the poor and needy: yes, they have oppressed the stranger wrongfully. And I sought for a man among them, that should make up the protection, and stand in the gap before Me for the land, that I should not destroy it: but I found none. Therefore have I poured out Mine anger upon them; I have consumed them with the fire of My wrath: their own way have I recompensed upon their heads, says the Lord God.
Ezekiel 22:23-31


We have to see the sins in our country and pray to Jesus for salvation for our country.



God - a Father of the fatherless
A Father of the fatherless, and a Judge of the widows, is God in His holy habitation.
Psalm 68:5

When my father and my mother forsake me, then the Lord will take me up.
Psalm 27:10

I heard about a fatherless guy that was so lonely and afraid that a criminal gang became his "family", but he had to obey them. He became a criminal and was put in prison. During his time in prison he met Jesus and get saved. Now he is calm and strong in faith, and don't have to be afraid anymore. God is his Father, Jesus is his Lord and the only way to God;
Jesus said to him, "I am the way, the truth, and the life: no man comes to the Father, but by Me."
John 14:6

Jesus said to her, "I am the resurrection, and the life: he that believes in Me, though he were dead, yet shall he live: And whosoever lives and believes in Me shall never die.
Do you believe in this?"
She said to Him, "Yes, Lord: I believe that You are the Christ, the Son of God, which should come into the world."
John 11:25-27

Jesus Loves You!
Recommended links:

http://www.worldchallenge.org/

http://www.ljusioster.se/
Yeshua-Jesus is coming soon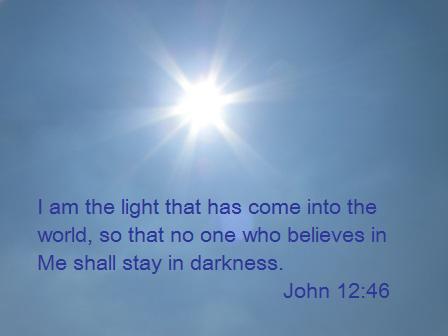 Heaven and earth shall pass away, but My words shall never pass away. No one knows about that day or hour, not even the angels in Heaven, nor the Son, but only the Father. As it was in the days of Noah, so it will be at the coming of the Son of Man. For as in the days that were before the flood they were eating and drinking, marrying and giving in marriage, until the day Noah entered the Ark; and they new nothing about what would happen until the flood came and took them all away. That is how it will be at the coming of the Son of Man. Then shall two men be in the field; one will be taken and the other left. Two women will be grinding with a hand mill; one will be taken and the other left. Therefore keep watch, because you don't know on what day your Lord will come.
Matthew 24:35-42
Behold, I come quickly: hold fast to what you have, so that no one will take your crown. Revelation 3:11
Israel - The Holy Land ♥ Jerusalem - The Holy City

Pray for the peace of Jerusalem; They shall prosper that love you. Psalm 122:6

Israel is Holy to the Lord, and the firstfruits of His harvest. All that consume her will be guilty; evil will come upon them, says the Lord. Jeremiah 2:3
Jesus - the meaning of life
Think of the life and the universe; so amazing and so great, with a detailed function.
How come that some people deny God's existence?
How come that some people don't believe that God is the Creator?
How come that some people don't believe that the devil exists and that he tries to cheat us and make us evil?
How come that some people belive in lies more than truths?
How come that some people like to do bad things more than good things?
Well, because some people choose to believe the lie.
How come that some people belive in God and that Jesus is the only begotten Son of God?
How come that some people knows that Jesus has overcome the devil?
Well, because some people choose to see the truth.
Jesus is the meaning of life and the only way to God.
Jesus is like oxygen for me - I can't live without Him.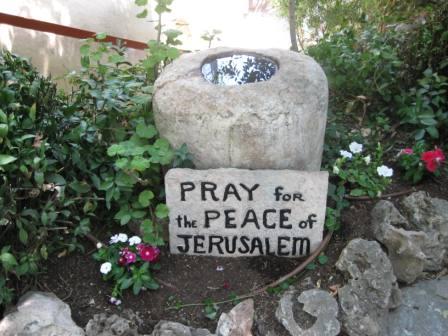 Behold, the days come, says the Lord, that I will make a new covenant with the house of Israel, and with the house of Judah: Not according to the covenant that I made with their fathers in the day that I took them by the hand to bring them out of the land of Egypt; which My covenant they brake, although I was a husband unto them, says the Lord: But this shall be the covenant that I will make with the house of Israel; After those days, says the Lord, I will put My law in their inward parts, and write it in their hearts; and I will be their God, and they shall be My people. And they shall teach no more every man his neighbour, and every man his brother, saying, Know the Lord: for they shall all know Me, from the least of them unto the greatest of them, says the Lord; for I will forgive their iniquity, and I will remember their sin no more.
Jeremiah 31:31-34
Praise the Lord!
The Pharisees also came to Him, tempting Him, and saying to Him, Is it lawful for a man to put away his wife for every cause? And He answered and said to them, Have you not read, that He which made them at the beginning made them male and female, And said, For this cause shall a man leave father and mother, and shall cleave to his wife: and they two shall be one flesh? Therefore they are no more two, but one flesh. What therefore God has joined together, let not man put apart. They say to Him, Why did Moses then command to give a writing of divorcement, and to put her away. He said to them, Moses, because of the hardness of your hearts permitted you to put away your wives: but from the beginning it was not so. And I say to you, whosoever shall put away his wife, except it be for sexual immorality, and shall marry another, commits adultery: and whosoever marries her who is put away does commit adultery. His disciples say to Him, If the case of the man be so with his wife, it is not good to marry. But He said to them, All men cannot receive this saying, save they to whom it is given. For there are some eunuchs, which were so born from their mother's womb: and there are some eunuchs, which were made eunuchs of men: and there be eunuchs, which have made themselves eunuchs for the Kingdom of Heaven's sake. He that is able to receive it let him receive it.
Matthew 19:3-12
We shall indeed live close to our wife and have a good relation with her.